The following list includes information on the FDA's 9 major allergens:
MILK/DAIRY, EGGS, WHEAT, SOY, PEANUTS, FISH, SHELLFISH, SESAME, and TREE NUTS in our menu items.
It is based on information from our food manufacturers, suppliers and vendors. While we strive to keep the list updated and current, there is the possibility substitutions or changes may be made without notice due to the availability of a product or ingredient. Furthermore, it is also possible that a manufacturer of a product or byproduct may not have included an allergen in their ingredients.
In addition, please note that in full service kitchens like ours, as well as in our corporate central kitchen, it is very common for ingredients to come in contact with potential allergens through shared preparation or cooking surfaces or fryers of items that do contain them.
Therefore we cannot guarantee that an item is completely free of an allergen or byproduct, and we assume no responsibility for guests with food allergies, food sensitivities or dietary restrictions.
HOW TO USE THIS GUIDE
• Select an entree (ie., chicken katsu) *Please note our "standard plate" for these items consists of white rice and mac salad. Variations may be made of brown rice in place of white rice, and toss salad in place of mac salad. If selecting toss salad, be sure to consider the dressings.
Contains This Allergen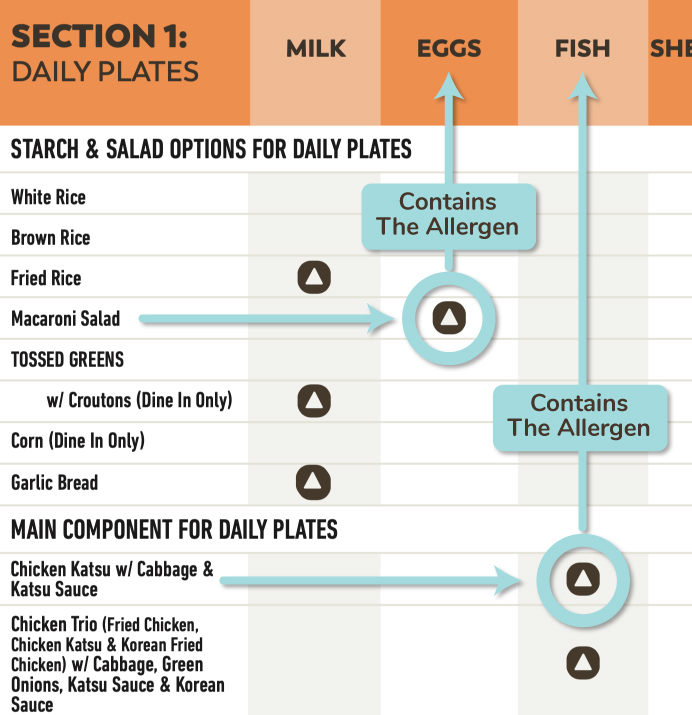 *This listing provides information only on the allergens that may be present.
For questions regarding general ingredients, please contact our Customer Service Department at [email protected] or at (808) 973-0880.