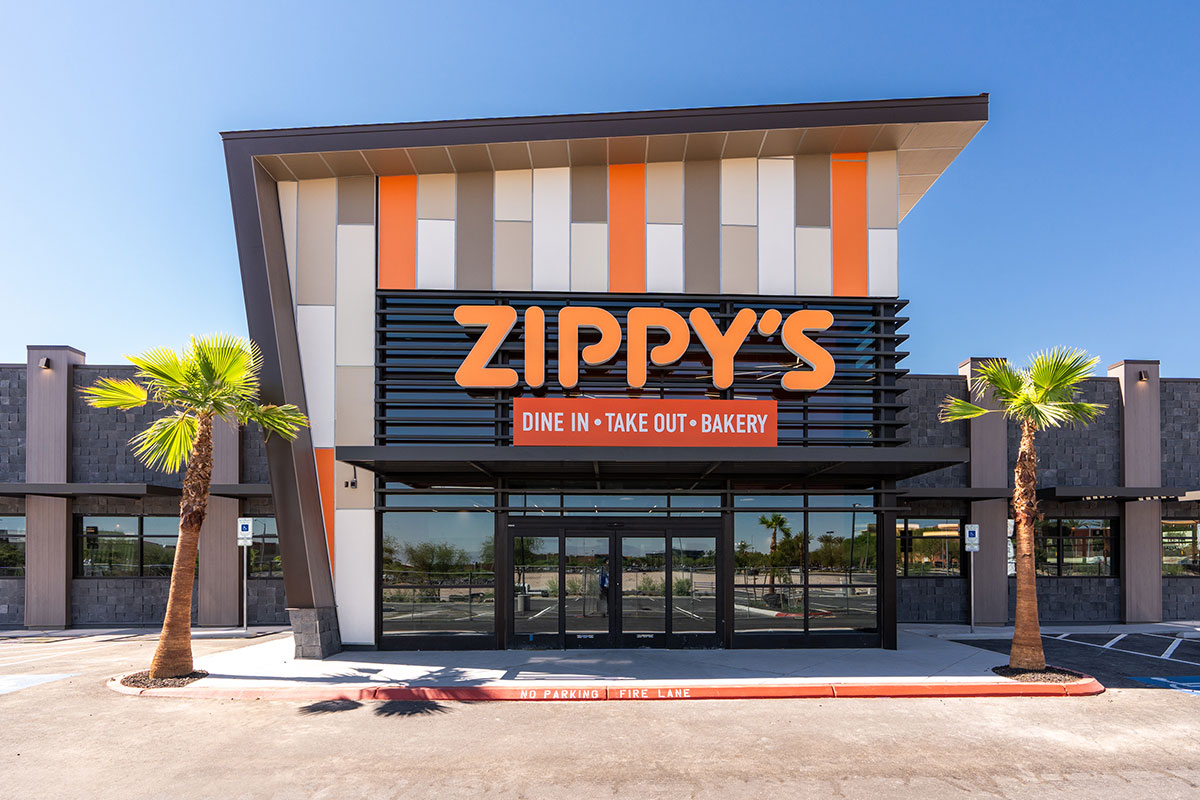 Zippy's Las Vegas
7095 Badura Avenue
Las Vegas, NV 89113
HOURS OF OPERATION
Mon – Sun: 6am – 12am
Mahalo
Mahalo to more than 1,400 employees of Zippy's, the people of Las Vegas for their enduring patience and support, and to the people of Hawaii because there is no 'Zippy's' without you!
We look forward to becoming an integral part of Las Vegas, the same way we are for Hawaii, as a community resource and safe gathering place for everyone. We humbly come to serve you in any way we can.
FEATURES AND SERVICES
Services like online ordering and our loyalty program, Zipster Rewards, and delivery via third-party services will be available in early 2024. To ensure a positive experience for everyone, we encourage you to visit our Badura store in-person, where no one can "skip the line" by using one of the alternative ordering options. In early Q1 of next year, we intend to turn these services on for everyone so make sure you're signed up for email to hear about it first!
Take out
Mon – Sun
6:00 am – 12:00 am
Dine in
Mon – Sun
6:00 am – 12:00 am
Bakery
Mon – Sun
6:00 am – 12:00 am
Delivery
Coming soon in 2024
Zipster Rewards
Coming soon in 2024
Online Ordering
Coming soon in 2024
Las Vegas – Zippy's App
Coming soon in 2024
Want to Join Our Las Vegas Team?
We are looking for people like you to join our 'ohana (family) to help advance our company mission to "Share Aloha." Positions are available at all levels, management, hourly, restaurant, fast food, and commissary. If you want to work with some of the best people around, Zippy's looks forward to hearing from you!
Next Stop: Zippy's Las Vegas
Announcing the grand opening of Zippy's Las Vegas: October 10, 2023.
"Our passion, as we expand beyond our home shores, is to serve the people of Hawaii as more than just a restaurant, but as a community resource and safe gathering place for everyone. We know that the strength of Hawaii lies in its people and we humbly come to serve you in any way we can."
(Jason Higa, CEO)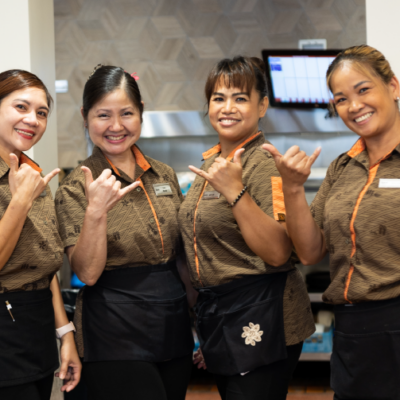 Announcing the date you've been waiting for... October 10th at 10:10am We are proud to announce that our first location outside of Hawai'i is set to open to the public on Tuesday, October 10th at 10:10am. We look forward to sharing aloha, by bringing 'ono food to ...
read more
Badura behind the scenes A work in progress for years, we're excited to finally open the doors to you on October 10th! Sign up for email to get all of the latest Las Vegas updates. Subscribe Now
read more
When is Zippy's opening in Las Vegas
Tuesday, October 10, 2023 at 10:10am. The date is just the earliest we could open – and it's easy to remember "10/10 at 10:10."
Where is it located?
It is at 7095 Badura Ave, Las Vegas, NV 89118, on the corner of Badura Avenue and Montessouri Street in the Southwest corner of Las Vegas. Take the 215 and get off at Rainbow Boulevard. Head south on Rainbow and turn right onto Badura Avenue. We are located near the Arroyo Market Square.
I want to work at Zippy's - what kind of pay and benefits do you offer?
We want you to work at Zippy's! View all of our open positions at zippys.com/careers. Pay is competitive with other restaurants, and our benefits include paid time off, medical/dental/vision insurance, free duty meals, a 401(k) plan, employee discounts and so much more! Most importantly, we are still a family business and many of our executives know our staff personally and enjoy interacting with the frontline. However, we are big enough that we can offer large company benefit plans, opportunities for advancement, and development to those that seek it. Quite simply, we offer the best of both worlds: a personalized concern for staff members and entrepreneurial spirit of a smaller company, while still being big enough to offer strongly competitive pay, benefits, and chances for advancement.
What took you guys so long?! We've been waiting for years!
Vegas has been patiently waiting for Zippy's! When we first announced our intentions to open in the valley in 2018, we had hoped to open in 2020. We all know what happened. Like so many restaurants, we were hit hard by the pandemic and we had to pivot to ensuring that our core business in Hawaii was stable. While it wasn't easy, we were able to make it out of the pandemic leaner and meaner – but we got caught behind a global supply chain shortage of construction materials. Long story short, we wanted to be open sooner, but here we are now!
Are you opening more locations in Vegas?
We are looking at more locations to serve all the residents of Las Vegas. No firm decisions have been made about any particular location at this time, but we will use
zippys.com/lasvegas
to make any announcements of new locations. Right now, we are focused on getting our first location and central kitchen up to speed.
We want a Zippy's in our city! Are you opening locations outside of Las Vegas?
Right now, we are focused on ensuring a successful operation in Las Vegas. Other cities in the Continental U.S. will be considered at a later date.
What about other locations in Hawaii, such as on Kauai or in Kailua-Kona?
We are always considering new locations in our home state. At this time, the correct mix of timing, available locations, and other business considerations haven't yet presented themselves. We will continue to evaluate new business opportunities in Hawaii.
Can I buy a Zippy's franchise?
All Zippy's stores are company-owned and we do not franchise at this time.
Currently, you don't ship your frozen retail boxes in the mail. Will you do so once the Las Vegas location is open since it will be on the continent?
All of our frozen retail boxed products, like our chilis and soups, are produced exclusively in our Hawaii production facility, which is certified by the US Department of Agriculture (USDA) specifically for us to ship our frozen products across state lines and to sell them in other retail outlets. Because of the stringent production regulations, and the expense associated with it, only our Hawaii facility will produce the retail boxes of Zippy's menu items. A positive side-effect of this is that all of our retail chilis are made with 100% Hawaii-sourced ground beef! We support buying from within the state of Hawaii as much as possible, and we work with ranchers and meat processors to get the freshest all-local ground beef in Hawaii. The next time you purchase a retail box of chili at a store in the continental U.S. you are supporting Hawaii's local cattle industry.
I have some promotional money coupons and customer recovery coupons that I received in Hawaii. Will they be accepted at your Badura Avenue location?
Yes! All promotional money coupons issued in Hawaii are valid for use in Las Vegas, subject to the expiration date and terms and conditions as printed on the coupons.
What about the gift cards I purchased or received years ago – are those valid for use at this new location?
Yes! All Zippy's gift cards are valid for use in Las Vegas, subject to the terms and conditions printed on that card.
Will you have the entire Zippy's menu in Las Vegas as you do in Hawaii?
We will be offering our signature take-out counter, dine-in restaurant, and full-service bakery in Las Vegas! We are looking forward to serving you at breakfast, lunch, and dinner. But, we'll need a little bit of time to get up to full speed. Most of Zippy's "greatest hits" will be available when we open on 10/10, whether that's a Zip Pac, Korean Fried Chicken, or Apple Napple. Over the course of several months, we will gradually phase-in and expand the menus for food and baked goods to ensure that we can make all of your favorites the same as we make them back in Hawaii. Visit
zippys.com/lasvegas
for more information as we get closer to the opening to find out what menu items will be available and when to expect even more items. Or, sign up for email updates at
zippys.com/subscribe
.
Why are you opening with only part of your menu, why not the entire thing?
We are limiting our menu to ensure that all guests have a superior experience in our opening weeks. We want to ensure that your food is delicious, hot, and served quickly, just like how we do it back in Hawaii. With over 100 items on our full menu, our new kitchen and front-of-house staff can better serve you by being gradually trained to make a portion of the menu at opening, and then more along the way. Fear not! Almost all of our signature food items will be available at opening – like the Zip Pac, Korean Fried Chicken, our famous chili, Napples, Chantilly cake, and much more. We will release a full schedule of when certain new menu items and new services will be available. Watch zippys.com/lasvegas for more information.Or, sign up for email updates at
zippys.com/subscribe
.
Will you offer mobile ordering and delivery?
Similar to the above, we want to ensure that our guests have a great experience when they come down to the location. We will eventually have those services, but not until we know that we can deliver a great experience to both our in-house and online guests.
You offer a Zipster Rewards program in Hawaii, will that be offered in Vegas too?
We will offer our Zipster Rewards loyalty program in Las Vegas early in 2024. Because so much of the Zipster Rewards experience is delivered online, we believe that the Zipster experience will be far better when we offer mobile ordering. Mahalo for your patience.
I want to be first in line at Zippy's when you open! Can I get in line earlier than 10/10 at 10:10am?
Yes, however, we will provide guidance as to when you can begin to line up, where to do that, where you can park, and other information to keep you and others safe while waiting in line. We truly look forward to welcoming everyone to the party in the line! We hope people can have fun, be safe, and help celebrate all that makes Hawaii great! More information to come.
Will your fundraising ticket program be available in Las Vegas?
We are evaluating when to introduce the Zippy's Fundraising program in Las Vegas, but yes, we will!
Will there be menu items exclusive to Las Vegas?
Right now, we are focused on getting our Zippy's operations up to full speed in Las Vegas. We evaluate all of our menu choices on a regular basis and may consider exclusive items for Las Vegas later.